He lied. It started quietly at first, barely a whisper. I would brush it away. I did not believe it. But he was persistent. His lies continued. He sounded so confident of his words.
I was
fatigued.
That should have been my first sign, my first red flag. I should have known he would capitalize on this. I was too tired to be alerted or to notice.
I was
frustrated
. Things were happening so differently than what I had expected, what I had planned. Second red flag that he would use this to his advantage. I was too busy trying to solve the issues at hand to be aware of his lurking.
I was
fearful.
Fearful that things might not turn out as I had hoped. I was fearful that I would be required to face yet another difficult moment, another difficult time in life. Fearful of what might lay ahead and would be required of me. Because of my fatigue and frustration, my fears became magnified.
Due to my fatigue, frustration, and fear… I was now feeling like a
failure.
Everything I had been sharing with others only weeks before now seemed so far away, so unreal, so unbelievable, so fake, so "not reality". I was failing at believing what I knew to be true.
I recalled a message I had heard on discouragement and reality hit. That is where I was. In the depths of discouragement. I was reminded of four
causes that can lead to discouragement
..
.
and I was facing them all...
fatigue, frustration, failure, and fear.
Was it any wonder I was believing what the liar was telling me? Was it any wonder I was so easily drawn into his lies… his plans to bring me away, to lure me from truth, to convince me of falsehood?
I am far enough along in my Christian walk to recognize many things as being from the liar. I recognize hate, envy, selfishness, and even gossip. But I was failing to recognize discouragement. I failed to see the tool of discouragement he so easily slipped in as I was struggling to discern what was right and true.
He lied. I listened. I believed the lies. I doubted truth. I tumbled into discouragement. I began to doubt God and the plans He had for me. It worked.
He lied to me. But now... I am on to him. I have figured it out. I am sad and embarrassed to say it took time to catch on. He was beating me when I was down and I lay there and let him. But not now. Not anymore!
By the goodness, graciousness, and sovereignty of God… God has reached down and taken me from this place. He has brought me out into a spacious place; he has rescued me because he delighted in me.
(Ps. 18: 19).
He has restored to me the joy of my salvation and has granted me a willing spirit.
(Ps. 51:12)
As I have cast my cares on Him, he has sustained me.
(Ps. 55:22)
When my foot was slipping, His love supported me. His consolation has brought joy to my soul when anxiety was great within me.
(Ps. 94: 18-19)
The liar… Satan… has had a hand in my life in the past days… a brief moment in time that has felt like forever. I was listening to him, believing him, and in the depths of desperation and discouragement.
I am coming out of the pit and am no longer feeling engulfed by the darkness. Christ Jesus has the victory in my life! Satan has been defeated!!
I have heard and believe, once again, the voice of truth.
The Voice Of Truth

By Mark Hall & Steven Curtis Chapman
Verse 1
Oh what I would do to have
The kind of faith it takes
To climb out of this boat I'm in
Onto the crashing waves
To step out of my comfort zone
Into the realm of the unknown
Where Jesus is
And He's holding out His hand

But the waves are calling out my name
And they laugh at me
Reminding me of all the times
I've tried before and failed
The waves they keep on telling me
Time and time again
Boy you'll never win you'll never win

CHORUS:
But the voice of truth tells me a diff'rent story
The voice of truth says do not be afraid
And the voice of truth says this is for My glory
Out of all the voices calling out to me
I will choose to listen
And believe the voice of truth

Verse 2
Oh what I would do
To have the kind of strength
It takes to stand before a giant
With just a sling and a stone
Surrounded by the sound
Of a thousand warriors
Shaking in their armor
Wishing they'd have
Had the strength to stand

But the giant's calling out my name
And he laughs at me
Reminding me of all the times
I've tried before and failed
The giant's keeps on telling me
Time and time again
Boy you'll never win you'll never win

Chorus

Bridge
But the stone was just the right size
To put the giant on the ground
And the waves they don't seem so high
From on top of them looking down
I will soar with the wings of eagles
When I stop and listen to the sound
Of Jesus singing over me

Chorus

I will choose to listen and believe
The voice of truth
I will listen and believe
I will listen and believe
The voice of truth

I will listen and believe
'Cause Jesus You are
The voice of truth
And I will listen to You
You are the voice of truth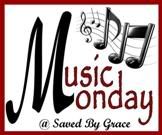 Head over to
Shawntele's
to see what others are saying about the music in their life.