Things seemed to be going as well as could be expected. Of course there were bad days intermingled in with the good, but overall it was manageable. Almost as if on auto pilot.
Then it happened. It was if we hit a wall. Looking back I notice that I probably saw it coming. I should have predicted it. Maybe I just didn't want to admit it. Perhaps I believed ignoring it would make it not be so.
Reality hit. My first reaction was one of despair, disappointment and hopelessness.
I had a good cry. I was honest with God. I got to the other side. I renewed a surrender of my will for His, to be used as He saw fit to bring glory and honor to Him alone.
I previously made the decision to no longer go into all of the details in this public forum of my daughter's situation and difficulties related to her brain injury. However, I will share generally. It helps to explain the world my heart is facing in the days ahead.
Once again...it is time to get busy. It is time roll up my sleeves and get to work. It is time to straighten, stand up tall and be strong marching forward.
I have made phone calls. I have made appointments. There will be more evaluations for my daughter. The paperwork has arrived to be completed. There are decisions to be made.
Renewed surrender. Inviting and experiencing rain.
Experiencing a Holy God worthy of all praise in the midst of it. To Him alone be all the glory.
Bring the Rain
By Mercy Me
I can count a million times
People asking me how I
Can praise You with all that I've gone through
The question just amazes me
Can circumstances possibly
Change who I forever am in You
Maybe since my life was changed
Long before these rainy days
It's never really ever crossed my mind
To turn my back on you, oh Lord
My only shelter from the storm
But instead I draw closer through these times
So I pray
Bring me joy, bring me peace
Bring the chance to be free
Bring me anything that brings You glory
And I know there'll be days
When this life brings me pain
But if that's what it takes to praise You
Jesus, bring the rain
I am Yours regardless of
The dark clouds that may loom above
Because You are much greater than my pain
You who made a way for me
By suffering Your destiny
So tell me what's a little rain
So I pray
Holy, holy, holy
Is the Lord God Almighty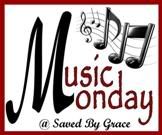 Head over to
Shawntele's
to see what others are saying about the music that is filling their days.