You know how it is said that "opposites attract"? Well, that is true when it comes to my husband and I and our response to music.
He's not near as drawn to music as I am. So, when he mentions a particular song that he likes, or makes a comment about a certain piece, I take notice.
This is one of those songs. It has become a family favorite. When it is playing, we crank up the volume. By the end of it we find ourselves up and moving, singing along and loving every minute of it.
So, crank up the volume and join along. It is a family favorite here and one worth taking part in... celebrating the truth of the words with every breath!
I Am Free
by Ross Parsley
Verse
Through You the blind will see
Through You the mute will sing
Through You the dead will rise
Through You all hearts will praise
Through You the darkness flees
Through You my heart screams
I am free
Chorus
I am free to run (I am free to run)
I am free to dance (I am free to dance)
I am free to live for You (I am free to live for You)
I am free (I am free)
(repeat)
Verse
Chorus (3xs)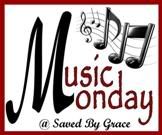 Head over to
Shawntele's
to see what others are saying about music they are enjoying.